Robot Pets and Toys
Robot Pets and Toys are Here!
Robot Pets and Toys have long been a part of the human imagination, figuring largely on television and movie screens as faithful and sometimes cheeky companions. There was "Rags'' from the 1973 Woody Allen movie Sleeper, who "barked'' in a clearly human voice, Dynomutt, the Blue Falcon's robotic dog from the Hanna-Barbera TV animation, and more recently Goddard, from the Jimmy Neutron movie and TV series. This fondness for mechanical toys goes way back to the 18th century, a period that saw a profusion of mechanical toys from the hands of the earliest inventors. Some of the most celebrated toy automatons include Vaucanson's duck and von Kempelen's phony mechanical chess player, The Turk.
---
---

Today, robot makers continue to indulge humanity's fascination for robotic companions, designing and producing robotic pets of all kinds and species, each one more technologically advanced than the last. It was towards the end of 20th century when robotics saw an inevitable leap in functionality, and robots began to emerge as highly sophisticated machines that could recognize environment and use sensors to distinguish images and sounds. The future of robot pets and toys is bright!
---
Click HERE for a for Information on The R2D2 Toy Robot
---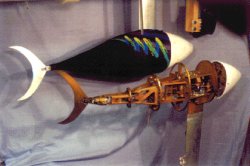 After which there came a wave of wonderfully useful inventions like 'RoboTuna', designed to mimic the shape and motion of a small tuna and develop a better propulsion system for autonomous underwater vehicles, and Gastrobot, the robot with a "stomach." And then of course there came robots designed simply to be endearing, albeit intelligent household companions, not really in the realm of robot pets and toys.
---
Click HERE for a for more Information on Robo Fish
---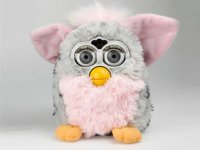 In 1998, the gremlin-like robotic pet "Furby'' was a phenomenon, selling more than 40 million units and generating more than a billion dollars in sales. A year later, Sony released the AIBO (meaning 'companion' in Japanese), probably the best known among all electronic pets. This robotic pooch could walk, "see" its environment using a camera and recognize commands in Spanish and English. More amazingly, it could "learn" and mature based on external stimuli from its owner or environment. This seemed to fit right into the area of robot pets and toys.
---
Click HERE for a for more Information on Furby
---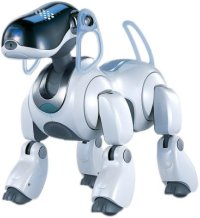 Using AIBO, medical researchers were able to confirm the emotional and even some physical benefits of robotic pet companionship, especially for seniors and disabled groups. Since then, more interactive robot pets and toys or "smart toys" have become commercially available, realizing the vision of the 18th century novelty toy makers.

---
Click HERE for more information on robot dogs
---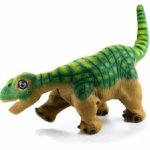 These pets have certainly come a long way from the repetitive "Rags," as toy and pet makers now use research in the combined disciplines of physics, biology, robotics, sociology and philosophy in their work. Electronic pets today are very nearly alive—exhibiting biological cravings like hunger and sleep, and displaying emotional preferences such as wanting to be stroked. The market is seeing more robotic pets like Pleo the dinosaur, who is equipped with 32-bit microprocessors and more than 100 custom-designed gears, and may well be considered the first autonomous bot of its kind. This pet bot feels hunger, fatigue, and mood changes brought about by "urges to explore" and be nurtured.
---
Click HERE for a for more Information on Robot Dinosaur Toys
---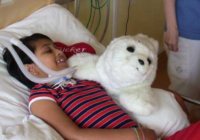 Other examples include robot company WowWee's series of pet animals with sensors, blinking eyes, animated mouths and internal micro-controllers with recorded sounds. Their lion cub for example, will purr and mew when touched. There is Probo, from the Probo-Vrije Universiteit Brussel, initially developed as a robotic friend for hospitalized children. More than a toy, it is considered an intelligent robot with its own personality, using sensors for vision, audio and touch to interact.
---
Click HERE for a for more Information on WowWee's series of Robotic Pets
---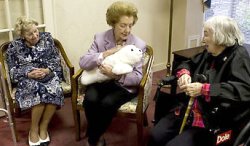 In Japan, the latest pet craze comes in the form of Paro, considered the most interactive "healing pet" made to date. Paro is designed for use in animal therapy without the need for actual animals that require special attention. The pet is incredibly soft and lifelike, and can develop its own personality over time.
---
Click HERE for a for more Information on Paro the Robot Seal
---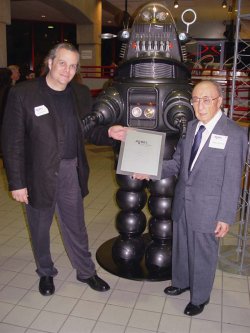 There are also robot replica building companies like Fred Barton Productions and B9Creations, that both recreate some of the most classic film and TV robots of all time. Fred Barton, for instance, builds life-size replicas of Robby the Robot featuring animatronic movement, a mic input for voice activation, D.C. Servo controlled head movement and other elements that allow the robot to move exactly as it did in the film, Forbidden Planet. Now, these toys may not be able to provide some form of comfort and companionship, but they sure can make a serious (and wealthy) collector feel really, really good. But these are quite far from real robot pets and toys.

---
Click HERE for a for more Information on Robby the Robot
---
B9 Creations has been producing replicase of B9, the Lost in Space robot for some years now. These, like the full-scale Robby the Robot replicase are quite expensive. At $24,500, they cost as much as a car.
Still, if you have the time and the skills, a true hobbyist can build his own , as the members of the B9 Robot Builders Club very passionately do. To date, around 15 detailed, full-size replicas of the Robot have been built around the world. This is a course of action, I believe, the original Robot would very, very gladly accept.
---
Lost in Space Robot B9 Replicas
---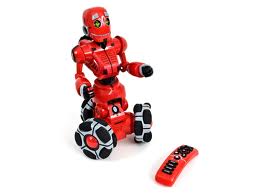 Certainly these modern robot pets and toys pets provide some very important benefits, never having to clean up or deal with untimely deaths included, but the question of whether batteries and metal could ever match the warmth and love of a real animal remains.
Even Wowwee's Tribot, while it does its best to entertain, It still is not as nice as a plush doll for a child to cuddle up with.

---
Click HERE for a for information on Wowwee's Tribot robot.
---
---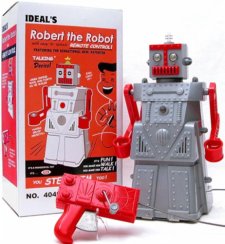 One of the more popular toy robots was made by Ideal Toys and was named "Robert the Robot". This toy should not be confused with Forbidden Planet's Robby the Robot. Nor should it be confused with yet ANOTHER Robert the Robot from an old TV show called Fireball XL5.
Ideal's Robert the Robot is a collectors item and goes for quite a few dollars when one can find it on eBay.
Replicas of Robert from Fireball XL5 TV show are costly and only available from small independent toy makers such as the Big Red Toy Box.
Robot toys will be with us for a long time to come. Some are designed for the collectors and some for children, but all for enjoyment and a smile.

---
Click HERE for information on the Robert the Robot toy.
---