Robert the Robot Toys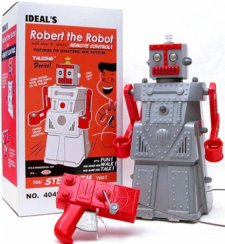 Robert the Robot Toys: "I am Robert Robot, mechanical man. Ride me and steer me, wherever you can."
Robert the Robot Toys. And with these words, this remote-controlled mechanical man took the U.S. by storm. Manufactured by Ideal Toy Corporation, of Hollis, New York, a toy company that invented the teddy bear, Robert the Robot became a common fixture in many suburban households in the 1950s. This was the early days of television, when sci-fi shows like Captain Video and Tom Corbett, Space Cadet became popular among kids. There were other sci-fi toys out at this time, but Robert was the first plastic toy robot to be enthusiastically welcomed into hundreds of American homes.
Robert the Robot Toys enjoyed good distribution. It was a very popular toy, especially since it appeared in Sears' 1954 Wishbook. Many purists today still remember that exact moment they took their Robert the Robot out of its box and were bowled over by its breakthrough technology. Robert's movements were controlled by a gun-like remote controller, which was attached to his back via a remote-controlled cable. Turning the crank on the controller allowed him to walk forwards or backwards, while squeezing the controller's trigger made him turn right or left. As Robert moved, his arms swung back and forth and his eyes lit up. Robert also featured a talking device, controllable by a crank on his back as well. Several Robert the Robot enthusiasts recall taking their robots apart just to see how it worked. Few were sadly able to put their mechanical men back together again.
The 16-inch red and silver robot was a technological marvel because he not only walked, he also had inside him the "sensational new patented talking device" (better known as the phonographic record). Inspired by the sci-fi classic Tobor the Great, Robert was in many ways cooler than the other wind-up robots that just walked around. He had a chest panel that could open up, inspiring the imagination of kids who dreamed of being both a robot owner and a robot technician. His chest panel even contained a set of handy tools, further convincing his owners that they could do repairs and maintenance checks on their little friend.
"I am Robert Robot, Mechanical Man. Ride me and steer me where ever you can, I am robert Robot, Mechanical Man".
Robert the Robot Toys were reportedly the brainchild of a mechanical engineer who was working on remote-controlled machines. He got the idea for a remote-controlled robot and took it to a friend, who helped him design the robot. It took them months to develop the perfect robot model, and soon a toy company agreed to manufacture the toy. In one 50's film clip describing the making of Robert the Robot, the narration said that when Robert was completed, he was "ready to take over the entire world; after all, look at all the things he can do: deliver newspapers and magazines, talk on the telephone, work a great, big bulldozer, and look right through you with his x-ray eyes. Perhaps he is only looking into the future."
Robert the Robot Toys are still immensely popular among collectors today, despite the presence of so much more technologically advanced robots on the market. I believe it is precisely his simplicity that makes him so endearing to people, especially those nostalgic about the good old days, when honest-to-goodness wonder and imagination played the biggest roles in childhood and toys. There are several companies who make Robert the Robot remakes today. These are usually cast in the original Robert mold and come with certificates of authenticity. Mostly collector's items, these robots come with a collector's manual and DVD covering Robert the Robot's history.
In short, Robert the Robot is still pretty much considered the Rolls Royce of robot toys. Today, collectors will pay anywhere from $200 and $1200 for a classic Robert the Robot. Many online sites sell Robert the Robot, and he sometimes turns up on e-Bay in the $100 range, but these are usually remakes. Original ones would sell for much higher. Makes me wonder if his x-ray eyes knew he was going to be this valuable one day.