Medical Robots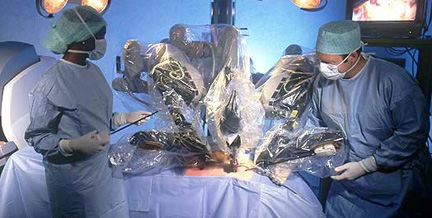 Medical Robots
Medical Robots. Nowadays, it is no longer surprising to learn that a hospital's top performing surgeon is not human. With unmatched precision and the ability to work without fatigue, medical robots are obviously one of the most useful applications of robotic technology. These robots are widely used in various medical practices, including difficult surgical procedures, and have completely revolutionized the speed and efficiency of health care services in several parts of the world.
---
Click Here for information on the Biopsy Robot
---
---
Puma
The first known medical robot utilized by the medical industry was in 1985, when the robot PUMA 560 placed a needle for a brain biopsy using CT guidance. Three years later, the PROBOT from the Imperial College London helped doctors perform prostate surgery on a patient. Since then, persistent studies on robotic systems for specific use in health care were carried out by medical researchers like Intuitive Surgical. One of its more famous robots is the da Vinci Surgical System.
Da Vinci Surgical Robot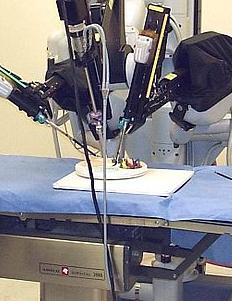 Commonly used for prostratectomies, cardiac valve repair and gynecologic procedures, the da Vinci medical robot is controlled remotely by a surgeon from a console, and is designed to perform highly complex surgeries using a minimally invasive approach. The surgeon maneuvers the system's robotic arms while viewing a tiny, high-resolution endoscopic camera inserted through an incision. The robot's jointed-wrist capability surpasses the human hand's range of motion, allowing for movement in a much smaller space. Successful surgery patients have therefore reported smaller incisions, less blood, pain and trauma and a faster healing time than regular surgery.
---
Click Here for The Da Vinci robot
---
ViRob Miniature Medical Robot
Several medical robots are used in a wide range of surgical applications, from neurosurgery to radiosurgery, even in pediatrics and orthopedics. But medical robots are not confined only to a surgical role. In Israel, a miniature robot called ViRob was developed in order to crawl through the human body, locate a tumor, and treat it with drugs. Measuring only one millimeter long and four millimeters from end to end, the bot uses tiny arms controlled by an electromagnetic field to propel its way through different cavities of the human body, looking for deadly tumors to treat.
---
Click Here for the PillCam Robot
---
IV Robots
In many parts of the world, hospitals use robots for tasks that require precision and promptness, such as delivering and retrieving supplies and mixing and dispensing medicines. In Europe and the U.S., a robot is used to mix and measure medications, specifically those used in chemotherapy. Human mistakes in this process can be very deadly, as the slightest error in the mix could endanger both patients and the hospital staff. Using a robot thus removes the need for manual calculation and greatly reduces the possibility of human error.



A robot called RIVA, developed by Intelligent Hospital Systems, has likewise automated the preparation of IV solutions in hospital pharmacies, making the process safer, cheaper and more efficient. To read more about Robotic Syringe robots click below

---
Clikc Here for the Robotic Syringes
---
Mr. Gower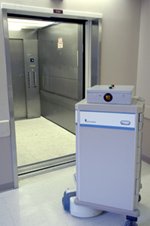 Other medical robots patrol hospitals as nurses and staff members. At a medical center in Maryland, a robot named Mr. Gower navigates the hallways, riding elevators, opening doors and delivering patient medications to the nurses' station all on its own. Marc Summerfield, director of pharmacy services at the University of Maryland Medical Center says that Mr. Gower can "pull up to 500 lbs and can work for 12 hours after charging its batteries for only two hours." He says that aside from filling the gap created by staff shortages, the robot helps them deliver medications to their patients faster.
In Houston, patients at the intensive care unit are regularly visited by 5-foot robots with computer monitors for heads. These bots are remotely piloted by doctors from a command center on another floor, allowing doctors to simultaneously check up on their patients and read their vital signs without having to leave their posts. In U.S. areas with sparse specialist coverage, telemedicine utilizing the same technology allows remote specialists to facilitate procedures like stroke management and give effective diagnoses. Using a robot's video camera, a neurosurgeon can observe and talk to patients and review their CT scans and other lab results even if they are hundreds of kilometers away.
Robots are also increasingly becoming popular in pharmacies. The McKesson ROBOT-Rxm, for example, stores and dispenses single doses of drugs for entire hospitals. Pharmacists simply enter prescriptions into a computer, while the robot collects the dosage by scanning the medications' barcodes. Finally the robot bags the medicines and keeps track of everything to ensure that the right medicine reaches the right patient.
---
---
IntelliFill i.v.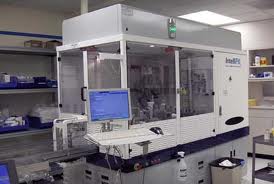 Another similar device is the IntelliFill i.v. a robot that can fill up to 60 drug-filled, patient-specific syringes per hour, also designed to ensure that the right medicine in the right dose gets to the right patient. A study by the Institute of Medicine in 1999 has estimated that as many as 98,000 Americans die each year because of medical errors — 7,000 of them from medication errors. This has therefore prompted hospitals to computerize systems for prescription orders and use devices that automate the prescription-filling process. According to its manufacturer website FHT Inc, http://www.fhtinc.com/ it has delivered over 30 Million IV doses.
---
Click HERE to read more about robots in Hospitals
---
Clearly, although the element of human touch is vital in the medical industry, some areas seem better left to machines. The goal of these robots, after all, is to improve the health and lives of us humans.
---
Click HERE to read more about CareBot medical robots.
---
Click HERE to Read about the da Vinci Robot on WIki

---
---
Jul 23, 16 12:26 AM

Stu the AI Robot - Debugging

Jul 07, 16 10:47 PM

Camera stolen again? This is the best Game Camera Security Box on the market. It...

Jul 03, 16 12:50 AM

A site with information on robots and androids including their history, building them, and so much more.
Robot-Android-Blog  Read our blog about robots, building robots, and easy robot building.
How to Build a Robot How to Build a Robot takes you through each step required to build a robot.
Build an Arduino Robot Yes you CAN! We get you started.

Robot Comics Robot Comics are HERE! We start off our comics with...
Virtual Steve Jobs Virtual Steve Jobs? Steve Jobs is gone and we missed him so much we re-created his essence in software...
The EZ Robot Review The EZ Robot Review. This article reviews the EZ Robot building system, the robot board and system for beginner's robot building.
Medical Robots Medical robots are now showing their silver faces in hospitals and doctors' offices across the world.
Roomba Repair Quick and Simple Fixes for Your iRobot Roomba vacuum
Roomba Batteries How to extend the life of your Roomba's battery. Buy replacement batteries here.
Robot Cars - Yesterday's Vision, Today's Reality Are robot cars 'on track' to becoming the way of the future? What issues are at stake at their current level of development?
Robot Car Safety - The Future of Today's Vehicles
Robot Car Safety can be identified by two main technological components - lacking in human drivers -a (1) instant reaction time and (2) 360-degree awareness of the road.
Educational Robots Learn robotics with these educational robots..
Robot People Robotic replicas of people - robot people - are starting to pop up here and there. We even visit a company who is today making them to order.
Hacking Elvis - The Alive Elvis Animatronic Robot In these articles we show you how to run your Alive Elvis from a microcontroller such as the Arduino and the Basic Stamp. Hacking Elvis...
Wall-e toy robots from Disney Wall-e toy robots are still popular this year

R2D2 Toy Robot : Interactive-Astromech Droid Here's a review of the high-end R2D2 toy robot, the interactive astromech droid.
Toy Robot Dogs Toy Robot dogs: In the robot pet store, you will find toy robot dogs - robomuts if you will - of all sizes, shapes and prices.
Wowwee Robotics Wowwee Robotics has been building toy robots for years.

Lost in Space Toys : The Robot Lost in Space Toys : There have been scores of toys built resembling the Lost in Space Robot, sometimes call by his model number "B9"...
Tribot Robot The tribot robot is one of the most entertaining toy robots that has come from Wowwee...
Terminator Robots Terminator Robots : The Terminator movies and television show brought robots to...
Artificial Intelligence: Our Brain In That Small Chip Artificial Intelligence was once thought of as an impossible feat. Now, with modern advancements in robotic technology, machines can be made to think like humans.
R2D2 - An Adventurous, Resourceful, and Loyal Robot R2D2 demonstrates several notable characteristics every human can learn from, in spite of the fact that he is, a robot. Read his biography here.
Anybots Vistual Assistant Robots - The Coming of Age in Telepresence Robotics Anybots Virtual Assistant Robots are expected to grow in a few years, or perhaps sooner.
BlueBiped: Propelled by it's Own Weight BlueBiped uses no power source to walk. This robot has set a Guinness World Record, walking nonstop for a distance of 15 km (9.32 miles), the longest distance ever walked by a bipedal robot
EZ-Robot May Be the Easiest Way to Build a Robot EZ-Robot May Be the Easiest Way to Build a Robot. The EZ-Robot is a $235 kit that includes everything you need to transform one of your old toys into a functional robot.
Introducing MorpHex, a Spherical Hexapod Robot Introducing MorpHex, a Spherical Hexapod Robot. Imagine a robot shaped like a ball which transforms into a walking six-legged contraption. That's a description of MorpHex, created by Kare Halvorsen.
Recovering Kids Monitored by Robots After Surgery Recovering Kids Monitored by Robots After Surgery. A Boston, Mass. hospital introduces a sci-fi worthy caregiver system, where patients can go home and stay monitored by robots after surgery.
iCub the "Baby Robot" - Learns to Crawl Like a Baby Have you heard of the iCub? It is a one-meter high android originally developed by the Europe-based RobotCub Consortium. The iCub strongly resembles
Dongbu Robot HOVIS Kits Allow Users to Build An Android Phone Powered Robot Dongbu Robot HOVIS Kits Allow Users to Build An Android Phone Powered Robot