Robot Surgery Death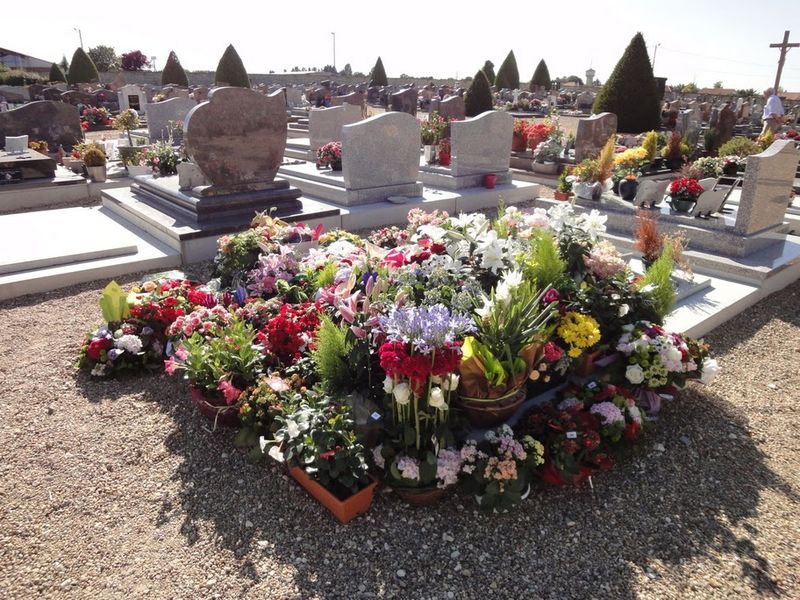 Death under the Robot Knife
Robot surgery death? In 2007, Chicago resident, Juan Fernandez died from a da Vinci, robot-assisted spleen surgery that had gone awry. This is not the first death that "Dr. da Vinci" has seen. Many a patient and medical doctor alike have talked about the numerous plusses of robot-assisted surgery. Few have talked about its failures. This article talks about some of those sometime fatal failures.
As with all surgeries, going on the operating table with or without a robot doctor comes with risks. Robot-assisted surgery is supposed to reduce that risk. But now people are asking if using robots such as the da Vinci Surgical System is superior to a standard laparoscopic procedure, or perhaps, if it's really an expensive gimmick for garnering increased profits and notoriety for hospitals.
---
da Vinci's Own Company Says...
"All surgery presents risk, including da Vinci Surgery. Results, including cosmetic results, may vary.
Serious complications may occur in any surgery, up to and including death. Examples of serious and life-threatening complic ations, which may require hospitalization, include injury to tissues or organs, bleeding, infection, and internal scarring that can cause long-lasting dysfunction or pain. Temporary pain or nerve injury has been linked to the inverted position often used during abdominal and pelvic surgery.
Patients should understand that risks of surgery include potential for human error and potential for equipment failure.
Risks specific to minimally invasive surgery may include: a longer operative time, the need to convert the procedure to other surgical techniques, the need for additional or larger incision sites, a longer operation or longer time under anesthesia than your surgeon originally predicts.
Converting to open surgery could mean a longer operative time, long time under anesthesia, and could lead to increased complications.
Patients who bleed easily, have abnormal blood clotting, are pregnant or morbidly obese are typically not candidates for minimally invasive surgery, including da Vinci Surgery.
Other surgical approaches are available. Patients should review the risks of all surgical approaches as well as the risks of da Vinci procedures to decide if da Vinci Surgery is right for them. Patients should also talk to their doctor about his/her surgical experience."
---
While minimally-invasive surgery (MIS) reduces the size of incisions, the risk of complications commonplace in traditional surgery–like bleeding, infection, injury to tissues and organs, etc.–are still present. Not only that, but Interactive Surgical, the inventors of the da Vinci system, says that there are also risks specific to using the da Vinci which include 1. longer operative time, 2. the need to convert the procedure to robot-assisted techniques, 3. the need for additional or larger incision sites, and 4. a longer operation time, which means a longer time under anesthesia than your surgeon originally predicted.  [source: Interactive Surgical].
According to the statistics provided by Bloomberg in a 2013 March article, the number of reports of injuries resulting from robot-assisted hysterectomies went from 24 in 2009 to at least 115 after three years. During that time the robot surgery deaths reported rose from 11 to 30. "The robots are also responsible for at least 70 other deaths since 2009," the report said [robot surgery death source: Bloomberg].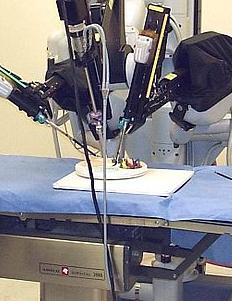 A recall was made in 2013 by Interactive Surgical for the da Vinci units because of defective Hot Shears TM [source: Interactive Surgical], and with this recall notice came an attachment with precautions and warnings about the use of the Hot Shears TM. Although some incidents are due to human error, such as inexperience with the machine, there is no doubt that the machine itself sometimes needs some modifications.
The number of reported cases is in the thousands which is a small but concerning number. By November of last year, the number of incidence cases the FDA received was 3,697 as oppose to the 1,595 the previous year. Note that it is likely that other factors such as media coverage and the increase in the number of robotic surgeries contributed to the rise in reported cases. It is uncertain whether the number of cases overall, has increased substantially on a year-to-year basis. What is may also be worrying is not the number of reported cases, however, but the number of unreported cases.
Robot Surgery Death
To understand how devastating robotically-assisted surgical mishaps can be, it is necessary to consider cases such as Sheena Wilson's. After suffering from rectal cauterization with the da Vinci robot, she is now facing long-term disability and a third corrective surgery. This was not robot surgery death, but she also must now live with the threat of losing her job, and as a mother of two, the idea of unemployment is terrifying. She filed a suit against the manufacturers in 2013 [source: Bloomberg].
Even Sheena Wilson's experience with da Vinci was not the worst of it. Some unlucky patients have died on the operating table thanks to "Dr. da Vinci". In 2007, Juan Fernandez died from a MIS spleen surgery gone awry. According to the report made by ABC News, a portion of the patient's small intestine was injured during surgery. After two weeks he had suffered from "an infection, brain damage, organ failure before slipping into a coma" and ultimately death. His wife and son were awarded $7.5 million dollars as compensation, but this will never be enough to reconcile the loss of a loving father and husband [source: ABC]. This seemingly routine surgery, where the presence of robotic assistance may have been unnecessary, cost this man's his life. This is not the only robot surgery death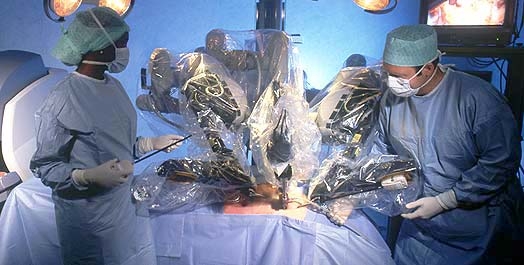 And not only have "normal" surgeries gone wrong. The NY Daily news reported that there have been "disturbing, freak incidents" including "a robotic hand that wouldn't let go of tissue grasped during surgery" and a robotic arm all by itself actually HITTING a patient in the face as she lay anesthetized on the operating table.
After looking at the horrors of mechanical medical mishaps, it's time to consider whether the leap to robotic help in the OR is worth it. With the da Vinci costing about 1.5 million dollars simply for the unit alone, the cost certainly takes its toll on the hospitals' budgets. It also doesn't help that there have been plenty of cases where the system has malfunctioned. A journal published on the NCBI website focused on measures urologist took when dealing with a malfunctioning da Vinci system. An unbelievable 100 out of the 176 doctors who responded to the survey faced operation-halting malfunctions during operation. Still, with about 1,400 hospitals having at least one da Vinci robot-assisted surgical unit, it doesn't seem like robotic surgery is going away any time soon.
For those who are expecting an MIS prostatectomy to yield better results and fewer consequences, there is more bad news. According to a journal published in the Journal of Clinical Oncology, there are still high risks for post-operative conditions such as incontinence, and erectile dysfunction regardless of whether the procedure is minimally-invasive or traditional [source: JCO].
This may break the hearts of many men, but this also serves to show that robotic surgery may not be a better solution as of yet and that perhaps the traditional route still has a place in modern medicine. It may not be robot surgery death, but prostate surgery complications can be life changing for a man.
While there may not be any robot surgery deaths (yet), the results may be even worse for women. According to another journal,"Robotic total laparoscopic hysterectomy may be associated with increased risk of vaginal cuff dehiscence and small bowel evisceration..." [source: NCBI]. It is important to realize that all surgeries come with a risk, but it is also true that a regular scalpel does not pose the threat of burning organs. While heavy bleeding from the lack of cauterizing incisions would indeed increase hospital fees because of the necessary transfusions, as the machine is right now, there really is hardly any difference between the overall costs for both methods. 
However, despite the praise that many doctors give the machine and it's imposing presence in hospitals, the system has a long way to go from the being the optimal surgical hero that Intuitive hopes it to be, both financially and medically. As can be seen from the number of problems arising from the use of the machine, more testing of robot-assisted surgical machines should be conducted to see if they are truly ready for use on patients.
It is obvious that there is room for improvement. Innovative thinking, further research, and focus on Intuitive Surgical's part can bring about breakthroughs and a new level of success with the da Vinci. And it would also be prudent for hospitals to more thoroughly test the integrity of the machines to reduce the chance of errors. Better doctor training and a more careful screening of patients can also help. Patients should not be used as human guinea pigs so there is no more robot surgery death. 
---
---
Jul 21, 17 09:20 PM

AI Phobia is a medical condition that...

May 03, 17 02:07 AM

Meet Romo the Smart Phone Robot. Peter Seid and Phu Nguyen are the engineers behind Romo, a simple and inexpensive robot kit that can turn a smart phone into a highly functional and mobile droid.

May 03, 17 01:51 AM

Star Wars Robot Chicken was an episode of the animated cartoon called Robot Chicken...
Robot-Android-Blog  Read our blog about robots, building robots, and easy robot building.
How to Build a Robot How to Build a Robot takes you through each step required to build a robot.
Build an Arduino Robot Yes you CAN! We get you started.

Robot Comics Robot Comics are HERE! We start off our comics with...
Virtual Steve Jobs Virtual Steve Jobs? Steve Jobs is gone and we missed him so much we re-created his essence in software...
The EZ Robot Review The EZ Robot Review. This article reviews the EZ Robot building system, the robot board and system for beginner's robot building.
Medical Robots Medical robots are now showing their silver faces in hospitals and doctors' offices across the world.
Roomba Repair Quick and Simple Fixes for Your iRobot Roomba vacuum
Roomba Batteries How to extend the life of your Roomba's battery. Buy replacement batteries here.
Robot Cars - Yesterday's Vision, Today's Reality Are robot cars 'on track' to becoming the way of the future? What issues are at stake at their current level of development?
Robot Car Safety - The Future of Today's Vehicles
Robot Car Safety can be identified by two main technological components - lacking in human drivers -a (1) instant reaction time and (2) 360-degree awareness of the road.
Educational Robots Learn robotics with these educational robots..
Robot People Robotic replicas of people - robot people - are starting to pop up here and there. We even visit a company who is today making them to order.
Hacking Elvis - The Alive Elvis Animatronic Robot In these articles we show you how to run your Alive Elvis from a microcontroller such as the Arduino and the Basic Stamp. Hacking Elvis...
Wall-e toy robots from Disney Wall-e toy robots are still popular this year

R2D2 Toy Robot : Interactive-Astromech Droid Here's a review of the high-end R2D2 toy robot, the interactive astromech droid.
Toy Robot Dogs Toy Robot dogs: In the robot pet store, you will find toy robot dogs - robomuts if you will - of all sizes, shapes and prices.
Wowwee Robotics Wowwee Robotics has been building toy robots for years.

Lost in Space Toys : The Robot Lost in Space Toys : There have been scores of toys built resembling the Lost in Space Robot, sometimes call by his model number "B9"...
Tribot Robot The tribot robot is one of the most entertaining toy robots that has come from Wowwee...
Terminator Robots Terminator Robots : The Terminator movies and television show brought robots to...
Artificial Intelligence: Our Brain In That Small Chip Artificial Intelligence was once thought of as an impossible feat. Now, with modern advancements in robotic technology, machines can be made to think like humans.
R2D2 - An Adventurous, Resourceful, and Loyal Robot R2D2 demonstrates several notable characteristics every human can learn from, in spite of the fact that he is, a robot. Read his biography here.
Anybots Vistual Assistant Robots - The Coming of Age in Telepresence Robotics Anybots Virtual Assistant Robots are expected to grow in a few years, or perhaps sooner.
BlueBiped: Propelled by it's Own Weight BlueBiped uses no power source to walk. This robot has set a Guinness World Record, walking nonstop for a distance of 15 km (9.32 miles), the longest distance ever walked by a bipedal robot
EZ-Robot May Be the Easiest Way to Build a Robot EZ-Robot May Be the Easiest Way to Build a Robot. The EZ-Robot is a $235 kit that includes everything you need to transform one of your old toys into a functional robot.
Introducing MorpHex, a Spherical Hexapod Robot Introducing MorpHex, a Spherical Hexapod Robot. Imagine a robot shaped like a ball which transforms into a walking six-legged contraption. That's a description of MorpHex, created by Kare Halvorsen.
Recovering Kids Monitored by Robots After Surgery Recovering Kids Monitored by Robots After Surgery. A Boston, Mass. hospital introduces a sci-fi worthy caregiver system, where patients can go home and stay monitored by robots after surgery.
iCub the "Baby Robot" - Learns to Crawl Like a Baby Have you heard of the iCub? It is a one-meter high android originally developed by the Europe-based RobotCub Consortium. The iCub strongly resembles
Dongbu Robot HOVIS Kits Allow Users to Build An Android Phone Powered Robot Dongbu Robot HOVIS Kits Allow Users to Build An Android Phone Powered Robot