Wall-E Robot Replica
Wall-E Robot Replica : Interview with Mike Senna : Wall-E Builder
---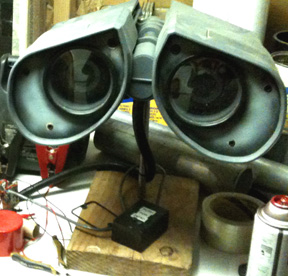 Build a replica of Wall-E : An interview with Mike Senna, Wall-E Robot Replica Builder. Earlier this week I had the opportunity to talk to robot builder extraordinaire Mike Senna of Yorba Linda, California. Mike, previously a builder of R2D2s and other robot replicas was working on his latest project, a Wall-E Robot Replica. When he finishes, his Wall-E may be the only complete Wall-E robot, outside of Disney Studios. Mike is about half finished. He is quite a stickler for detail and if his R2D2 robot is an example of his art, this robot will be a masterpiece. Below is both a video and a transcription of the interview.
---
---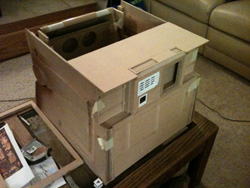 ---
Interviewer: I'm Thomas from Robots and Androids dot com, and I'm here today with Mike Senna. Mike's been building a Wall-E robot.


Interviewer: Mike, what got you started on building a Wall-E.


Mike Senna: Well, I needed another challenge after R2 (R2D2 from Starwars) and I was at a City of Hope event for cancer survivors and there they had a poster of a nice Wall-E which is right here. As I was going to build him anyways, I just started at that point. The event I'm gearing up for is the City of Hope.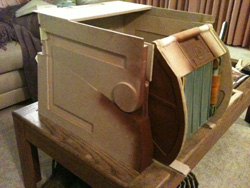 Interviewer: How long have you been working on Wall-E?


Mike Senna: It's been about a year now. Probably in earnest around March, I started thinking about it last year and then, 2010 of course, and then probably really started hitting it two or three months after that. Most of the time was spent on planning and actually building it in my head before I even put things together.


Interviewer: What would you say was the most difficult part of building this particular robot?


Mike Senna: Here is the most difficult part: the head and the head automation. So far it's been the biggest challenge. I was very glad when I got done with this piece actually.


Everything you see here all the details that's in here was very difficult to do. It's very accurate to the 3D animation model that I had seen. All this stuff here is very accurate to the model. Actually, it works very similar to the cartoon.


All these pieces (on the Wall-E head) here were done by a Wall-E club member that really did a fantastic three dimensional breakdown of Wall-E. His name is Jace. Just a fantastic thing. I could not have completed any of this (the head details) without his help.


Interviewer: That is some fantastic detail I see there.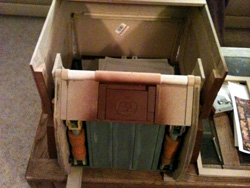 Interviewer: When do you think you might be finished with your Wall-E?


Mike Senna: Hopefully in June. I want to get done, but I don't know if that is possible because lately I've been concentrating on my professional life, work, instead of taking care of my hobbies. (Laughs)


Interviewer: I know what you mean.


Interviewer: Well, we hope to see you at the Riverside Robotics Society's event our Robot Expo this year 2011. Thank you very much Mike.


That was Mike Senna and his Wall-E replica. And, I'm Thomas from Robots and Androids Dot Com. May you too, "build a better 'bot!"


---
Click HERE to Visit the Wall-E Robot Replica Builders Club!
---