Teacher Robots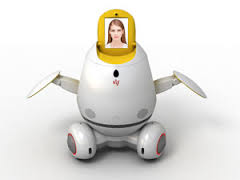 Teacher Robots
Coming to Korea's Schools in 2012
Teacher Robots - Coming in 2012 to Korea's Schools.
Can you imagine going to school for lessons given by teacher robots? In South Korea, that seemingly futuristic scenario is soon going to be a reality for thousands of kids.
At the 2011 Innovation Robotics Summit, Sang-Rok Oh of the South Korean Institute of Science and Technology (KIST) announced that in 2012, the country will be launching the "R-Learning" program for the integration of robotic teaching assistants with the educational staff of pre-schools and kindergartens in Korea.
The robots have been nicknamed "Engkeys," because they provide English language lessons alongside regular human teachers in the classrooms. They come in two forms: Yujin Robot's iRobi Q, which is designed to be a teaching assistant, and Dasa Robot's Genibo, which is basically, a robotic dog.
CNN visited a pilot project school in Masan, South Korea to see how the R-Learning program actually worked. In one pre-school classroom, a human teacher introduced the students to a knee-high Genibo robot dog. At another pre-school class, an Engkey recited instructions to students who were working at their desks.
According the CNN, the robots were nothing more than assistants to the human teachers, and were not being positioned as substitutes.
The Engkeys enable South Korean schools to make up for the country's lack of qualified Native English speakers in the educational field. For example, some Engkeys are equipped with speech recognition software that allows them to coach students who are learning proper pronunciation and conversation in English. Genibo robot dogs have been shown to motivate kids into paying attention during storytelling sessions.
Mun-Taek Choi, a senior research engineer at KIST, told CNN that the program underwent a government evaluation, which found that the use of Engkeys sparked an increase in student interest and self-motivation toward learning the English language. This has spurred the government to place iRobi Q teaching assistants in 5,000 classrooms of 400 Korean pre-schools by the end of 2012.
By 2013, the government expects to have all Korean pre-school and kindergarten classrooms — which number around 8,400 — equipped with the robotic teacher's aides. Genibo robot dogs will also be introduced to many classrooms, although numbers have not been reported yet.
The iRobi Q is manufactured by Yujin Robots, a Korean company that builds robots for domestic service, entertainment, and even military purposes. The iRobi was originally designed as an educational toy. It features an expressive digital face and an interactive LCD screen on its torso. It can dance, tell stories, take digital photos, and maintain a virtual organizer. But teacher robot or toy, it is soon to be an integral part of schoolkids' lives in South Korea.