Lost in Space Reunion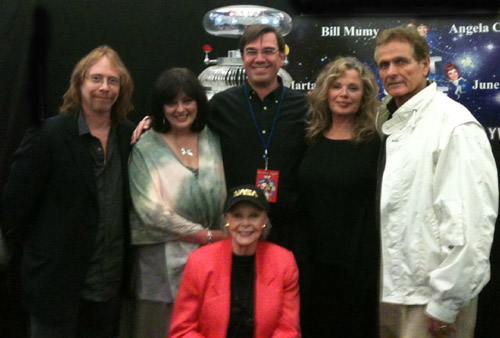 Lost in Space Reunion of the Cast including The Robot!
Lost in Space Reunion 2011. Here are a few photos and a video from the convention. In the photo above, the fanboy in the center is me!
I remember and enjoyed the Lost in Space TV show since I was a small child. I loved the robot and always imagined I was Will Robinson. Although I never got to be on the set of Lost in Space, in a way, Lost in Space came to me!
My colleague, Tim Lewis and I had the very good fortune of spending the day with the Robot, Bill Mumy, Angela Cartwright, Mark Goddard, and the very lovely June Lockhart, all who starred in the original TV show Lost in Space. The space thesbians, including the Robot, entertained and were there for photo ops with the fans. The Robot, by the way is my very own prop that I constructed with the help of a friend named Tim Sullivan, in 2005. Before this convention, I used to cart it around with LIS actor Bob May (Bob was the uncredited actor inside the "robot costume") when he was alive and attending conventions. God, I still miss that wonderful fellow!
I had a long talk with Angela about her Los Angeles art gallery and art in general. I had shorter conversations with the rest of the cast. All in all it was a wonderful show.
--Thomas
Lost in Space Reunion : The Wiki Page
June Lockheart and the Robot!
---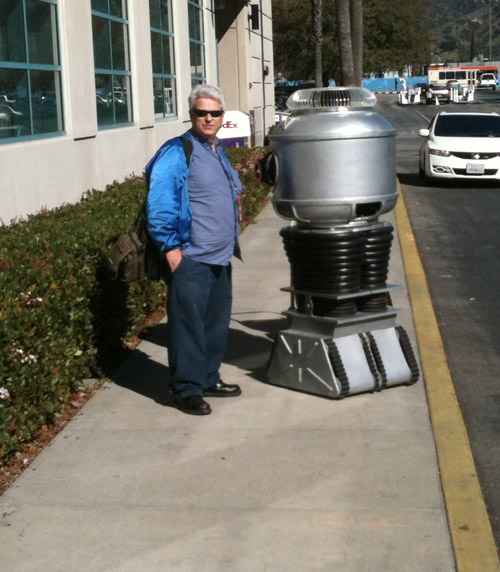 A Headless B9 on the Way In