Hanson Robotics: Newest Robot "Arthur"
by Trish Tsoi-A-Sue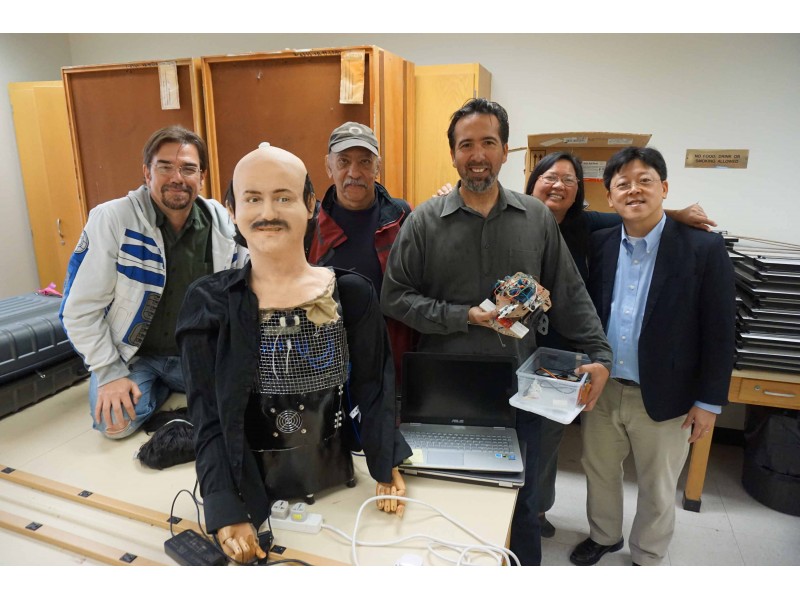 Hanson Robotics.
 On his way back from CES, CEO of Hanson Robotics, Jong Lee visited the Robotics Society of Southern California meeting.
CEO Jong Lee addressed a small group of Robotics enthusiasts at the RSSC meeting held monthly at Cal-State Long Beach, CA. He was accompanied by their demonstration robot, Arthur, a highly expressive robot with skin-like covering. Arthur has over 30 servos in his head alone. His skin is made possible through a new, patented material called Frubber (not Flubber, the subject of a Robin Williams, Walt Disney movie). I touched it, and it is smooth, soft, resilient and a little cool to the touch.
Currently serving primarily the research community and making custom million+ dollar humanoid robots for industry, Hanson seeks a broader market in the Entertainment and Medical robotics fields and is soon to reveal a smaller robot, a competitor product to the NAO robot (under 20K).

Hanson will be establishing a base in the Los Angeles area, at an address still to be determined. The Los Angeles area is an obvious choice given the company's goals of reaching out to the Entertainment industry (game development, theme parks, movies) as well as the Medical industry to develop solutions for Autism therapy.

Entertainment Robots
Hanson seeks to tap the huge open source developer community and the game tech-enthusiast market by creating ways for and demonstrations of the open source software Blender to control the movements of its robots.
Video: See Arthur responding to the animation in Blender -Blender-Robot Interface

Medical Robots

Hanson visualizes a world where robots can help to care for Autistic children. Current treatment for Autism recommends that a child receive therapy 40 hours a week for 2 years. Doing this will greatly increase the capabilities of the child and possibly alleviate the need for care for the rest of his/her life, but the cost of paying a trained therapist to perform this role are prohibitive for most families.
This makes it worthwhile to invest in a solution that might include a human-like emotion-expressive robot. The human-like nature of the robotic solution would enable an easier transition to social situations.

It is a very niche market, and Hanson Robotics is poised for it.
---
I would like to than Patricia for permission to reprint her article in its entirety. She is quite a writer and robot enthusiest. In her spare time, she help out the Boy Scouts, the Robotics Society of Southern California, and the Riverside Robotics Society.