Google Fathers Day Doodle Robot
Google Fathers Day Doodle Robot
Google Fathers Day Doodle Robot. A father and daughter team today, Father's Day, re-created the Google Father's Day Doodle Robot.
The two of them re-created the robot from a remote controlled toy car, a salad bowl, and a few other odds and ends. Mr. Messerschmidt and his daughter Maya, after seeing the Father's Day doodle and the robot on it that serves the father his morning coffee, got to work this Father's Day morning and started building that robot.
Messerschmidt, the president of the Riverside Robotics Society, and his daughter, who at age six is the youngest member of the club, took the plastic salad bowl and worked together for hours to come up with a replica of that robot. Dad drilled a few holes into the bowl, while daughter located her old remote controlled car. They took off the body, cut a bit of plastic here and there and then then put four large bolts through the bottom of the car and up through the bowl.
Together they worked tightening down the bolts that then joined the car to the bowl. Maya soon found an old Chuck E. Cheese cup that was to serve as a holder for her dad's favorite coffee cup. Dad drilled the holes and Maya bolted down the holder to the top of the robot. They added a tall antenna staff, added fresh batteries and viola, INSTANT ROBOT!
Messerschmidt said that it would have been more fun to add the serving arm that the doodle has, but that it being Sunday, parts would be hard to find. He said that it also would have doubled their building time.
This is not their first robot project. Little Maya has been building robots side-by-side with her Dad since she was four years old. This is the fifth robot that they built together. When given the choice between taking a walk with Dad or building robots, Maya without hesitation say, "I want to build ROBOTS!"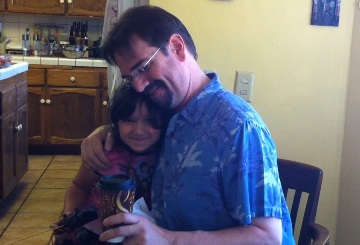 Not happy with having the coolest coffee serving Father's Day robot in the world, the two of them decided to re-enact the story from the doodle. With Mom behind the camera, dad and daughter made a short video. Togetherness like this is sweet enough for anyone.
Overall, it was a very happy Father's Day for both Dad and Daughter.
Watch the Recreation of the Google Father's Day Doodle Robot