Cleaning Robots
Cleaning Robots Making a Clean Sweep in Homes and Offices
Cleaning Robots. With the advent of the autonomous machine inside households, humans have found more and more ways to excuse themselves from working. Liberating people from unpleasant, repetitive chores has always been one of the robot's greatest functions, and what better chore for them to free humans from than cleaning. Today's robotic cleaning systems range from heavy and expensive industrial cleaning vehicles to light-weight and low-cost household devices.


---
---
Aside from floor cleaning 'bots, many companies now manufacture household bots for other parts of the house and beyond. Pools, for instance, can now be left to electric, self-contained cleaners which are left inside the pool whenever there is a need, bypassing the pool's main filtering system.
A transformer is usually plugged into a wall outlet and a long cord (length varies according to cleaner model) connected to the unit receives low voltage power to operate two motors in the cleaner. One is a pump motor which draws debris into the unit's filter, and the other a drive motor which moves the unit around the pool. Other units are battery-controlled and do not require any cords to operate. Some units could even be controlled remotely, allowing one to steer the unit from inside the house. Common pool cleaner brands include Aquabot, Dolphin, and AquaVac.
These robots are also used in large commercial and industrial spaces, where cleaning manpower obviously is best left to efficient, round-the-clock workers like machines.


---
---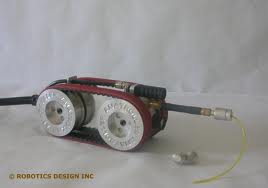 Robots can clean the interior of all oil tanks ranging in size and volume using hydraulics and an articulated nozzle mounted on its frame.
Japan's Hitachi Plant Engineering & Construction Co. has self-travelling duct inspection and cleaning 'bots, similar to the robot air duct inspectors commercially available in the U.S. These robots help determine the cleanliness and strength of air duct systems and can perform professional inspections, cleaning and encapsulation.


---
---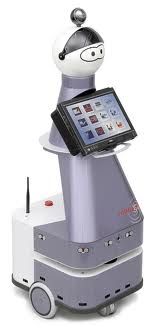 Robots such as France's Robosoft offers cleaning bots specifically so as to "reduce exploitation costs, human hazards and increase the quality of workmanship." The company manufactures floor and window cleaning 'bots, the latter including glass roof cleaning robots and a glass pyramid cleaning bot developed specifically for the pyramid of the Louvre Museum in Paris.


---
---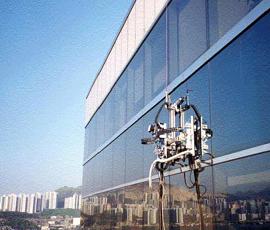 In the U.S., SkyBot, Ltd. created a window-cleaning 'bot created called SkyBot, a completely autonomous robot that works on a wide variety of high-rise buildings. Skybot consists of a computer that controls the lifting crane to position the robot and later on controls the robot according to its type of cleaning assignment.


---
Cleaning Robots : Click HERE to see more on Skybot.
---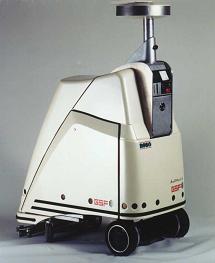 Other floor cleaning devices include the AutoVac6, a robotized industrial vacuum cleaner which may be used in large offices, rooms or corridors. It can be remotely operated specifically for use in hazardous areas or white rooms, or used as an autonomous robot for very big spaces like airports and shopping centers.
The robot moves using ultrasonic sensors that let it detect and avoid obstacles, and a laser range finder is used for absolute localization. Similar to this is the Clean 100, or C100, a floor cleaning 'bot used in supermarkets.
In all, cleaning robots for both residential and industrial spaces have largely freed up a great bulk of time for humans, allowing us to engage in more important pursuits, like inventing robots that could regularly scrub the toilets and repair leaks on the roof.