Bill Mumy
Bill Mumy as Will Robinson and his B9 Robot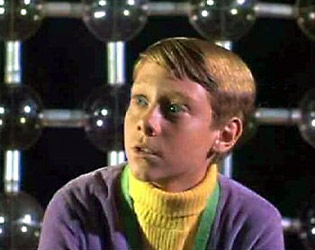 Bill Mumy. The iconic phrase "Danger Will Robinson!" has entered the popular vernacular. This line was spoken in the third season of Lost in Space by the TV show's robot, who acted as Will Robinson's surrogate guardian. Will Robinson was the red-headed, freckle-faced youngest of Prof. John and Dr. Maureen Robinson's three children and friend of the despicable Dr. Zachary Smith in the cult sci-fi series. But who was the real Will Robinson?
---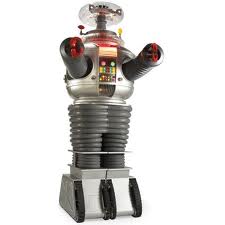 "Danger Will Robinson!"
---
That heroic boy astronaut was played by Bill Mumy, and that's "moo-me" and NOT "mummy", born in San Gabriel, California, on February 1, 1954, to Muriel Gertrude and Charles William Mumy, Sr., a cattle rancher. At the age of five, Bill successfully convinced his parents he wanted to enter show business. Since then, he has appeared in over 400 television episodes, 18 motion pictures, TV ads, and has done numerous TV productions and voice-over work. Bill Mumy is also an accomplished musician, producer, recording artist, and comic book writer.
---
---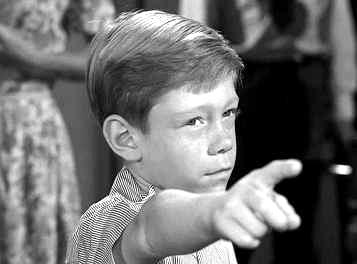 Aside from his three-year "Lost in Space" stint as Will Robinson, Bill Mumy is well known for his roles in the original Twilight Zone series which aired from 1959 to 1964. One particularly memorable episode was "It's a Good Life," the TV adaptation of a short story written by Jerome Bixby, in which a child with telekinetic powers terrorizes a small town.
Bill is also remembered for his role as the protagonist in the suspenseful 1962 thriller, "Bang! You're Dead," from Alfred Hitchcock Presents. In films, one of his finest moments was as Erasmus Leaf, an 8-year-old math genius enormously infatuated with Brigitte Bardot in 1965's Dear Brigette.
---
---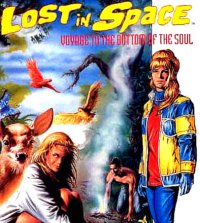 As an adult, Mumy played a number of science fiction characters, among them an ambassadorial aide in the syndicated series Babylon 5 and a Starfleet member in the Star Trek: Deep Space Nine episode. However, the Lost in Space series seems to recur most prominently in his works.
For instance, he has written a comic book, really a graphic novel, based on the Lost in Space characters and he was producer and writer for a syndicated special called "Lost In Space: Forever." He and Bob May (Bob was the man inside the robot) also returned to the role of Will Robinson for that show and arranged and performed the music for its end credits himself. Quite a talented fellow that man is.
---
---
An accomplished musician, Mumy plays the guitar, bass, keyboards, banjo, mandolin, harmonica, and percussion, among others. His musical credits include recording and writing songs with America, touring with Shaun Cassidy, and playing in Rick Springfield's band for a film.
He also has a band called The Be Five, formed with other Babylon 5 actors, another one called Seduction of the Innocent, and a blues-rock outfit called the Generators. Mumy is also one half of a notorious novelty rock music and film making duo, Barns and Barnes. One of their songs, Fish Heads, is included in the Rolling Stones' list of all time greatest rock videos.
---
---
Of his acting career, Mumy said in an interview, "I was fortunate enough to play some roles that have stuck in the consciousness of the public. I enjoyed the time I spent working on those projects very much, whether it was The Twilight Zone or Lost in Space or any number of other shows." He also said that he prefers the earlier black and white episodes of Lost in Space, though his son liked the later, colored ones, which he thinks are "really goofy."
Back then, Mumy accordingly wanted the show to be more science fiction and less campy, although he is able to appreciate them more now. "It was the robot, Dr. Smith, and Will Robinson as the Three Stooges," he said. One of his biggest influences was his TV dad, Guy Williams, whom he watched devotedly when he broke his leg at four years old and had to be confined inside the house. "I liked it when Guy Williams had a lot to do because he was my hero, he had played Zorro before he was on Lost in Space. Watching him as Zorro and George Reeves as Superman made me want to become an actor."
---
---
"I think my favorite Lost in Space episode was called 'Return To Earth,' where Will Robinson goes back and gets some carbon tetrachloride to fix the fluid purification system," Bill Mumy recalled. "He really did go back to Earth, and he effected enough of a change that if he hadn't been able to go back, they would have died. I loved being Will Robinson. I never had a bad day going to work on that show. Here I got the opportunity to be a little superhero. Will really was the guy who saved everybody's butt week after week, he used laser guns to shoot the giant monsters with, and he was controlling the robot and flying the ship. What little boy wouldn't love the opportunity to be Will Robinson? I was grateful for the opportunity to be that."
Now middle age Bill Mumy may no longer have his laser guns and robots, but he no longer really needs them. He still has his own fan club and with his enormous talent in music, writing, acting and producing, he's still very much a superhero. Except now he's down here on earth, and we certainly assume he's no longer lost.
---
---