The Riverside Robot Expo 2014
The Riverside Robot Expo 2014
The Riverside Robot Expo 2014 is Coming! The Riverside Robotics Society in association with the Robotics Society of Southern California, partnered with The Woodcrest Library and the Inland Empire Saber Team presents:
The Riverside Robot Expo and Star Wars Reads 2014 on Saturday, October 11th from 10 AM until 4 PM
LOCATION: Riverside Woodcrest Library 16625 Krameria Ave (A block off of Van Buren, at King Ave.) Riverside, CA 92504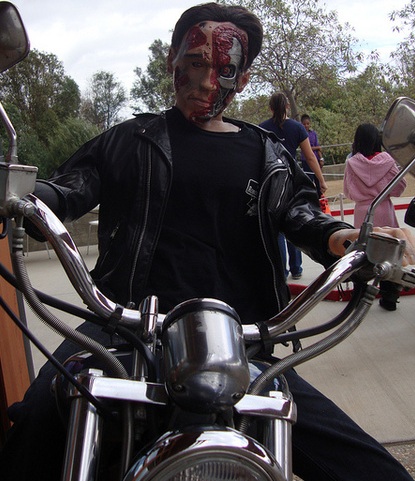 Exhibits included a life sized R2D2 and C3P0; the "Lost in Space" robot B9; the Terminator T2 (T800) cyborg (on a motorcycle!); the Terminator T600; DevoBot, the Robot Devo tribute band; an interactive HAL ("2001 a Space Odyssey"); Elvis Presley robot; Robot Betty9, the Singing Android; Wall-E; Leaf, the A.I. robot; Robot Melvis, a very human robot; Robot Races (YOU control the robots!); a Dalek, a robot art exhibit, people (the Inland Empire Saber team) in Star Wars costumes having light saber battles and MUCH, MUCH MORE!
Demonstrations includ artificial intelligence, robot vision, speech recognition, a matter replicator (3D printer), and FREE classes in robotics!
New for this year is LIVE FIRST COMPETITIONS! Come watch as the local FIRST Robotics teams compete head to head in the robot arenas. (Yes, we will have TWO arenas!) Cheer on your favorite team!
Also new this year are mini "Drone Races" (quadcopters) where YOU drive the "drone" yourself!
See scores of real robots, TV robots, and movie robots!
A cosplay costume contest!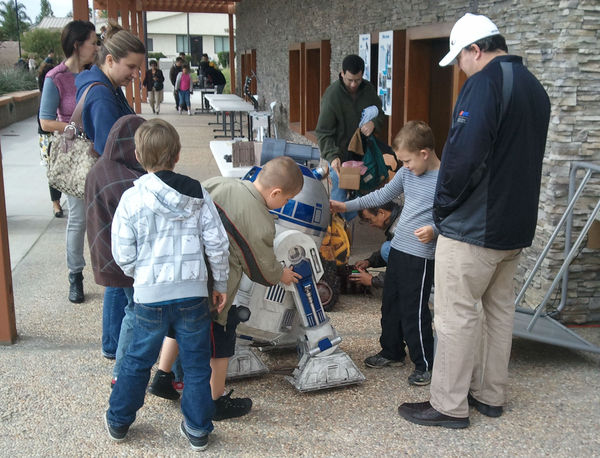 The Expo is put on primarily for the kids of of all ages in Southern California. They had over 2000 people last year. A lot of the kids who come to the expo are from the poorer sections of town. The event touches the lives of the kids who need inspiration most.
It is the hope of the folks of the Riverside Robotics Society that if they can inspire a dozen or two children a year to get into math, science, or engineering instead of drugs and gangs, they are truly helping to create a better society.
The robot expo is also a venue that allows robot builders to show off their latest creations, interact with the general public as well as interact with other people interested in robots and robotics.
This Robot Expo is the biggest robot event in Southern California!
Sponsored in part by robots-and-androids.com.
Riverside Robot Expo Info: The Riverside Robotics Society
---