Riverside Robot Expo
Riverside Robot Expo 2010!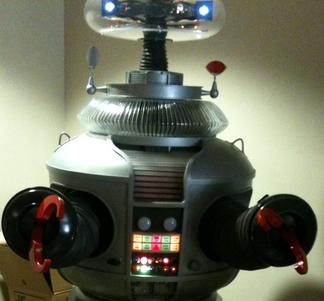 Riverside Robot Expo. The Riverside Robotics Society of Riverside, California put on it's annual robot expo at the Woodcrest Community Library in Riverside on November 6th of 2010.
It was estimated that over 1000 people, children and adults alike attended this event.
Of course the fact that there was free admission, free refreshments, free lectures on robots and robotics, AND hourly door prizes helped bring in the people.
At the event there were many, many robots of all sizes and shapes to be seen including:
- A Life-size R2D2
- A Life-size Lost in Space Robot(B9)
- A Life-size Terminator T600
- A Life-size Elvis Presley Robot
- Life size Singing Lady Gaga Bot!
- Albert Taylor's GhostBot
- Wall-e (1/2 scale)
- Optimus Prime
- The CandyBot
- Leaf, the AI Robot
- Art Robots (Artbots)
- and Many, Many More
Also at the Expo there was a lot to be learned. Best selling author Albert Taylor was there and talked about the paranormal and ghost hunting with his GhostBot. Alex Brown from the Robotics Society of Southern California gave a demonstrations in artificial intelligence, robot vision, and speech recognition. And Thomas Messerschmidt gave his "Build-a-Bot" robot workshop to a group of about 35 people.
Hosting the Expo is one way that the Robotics Society of Riverside is reaching out to the Riverside community to help inspire a whole new generation of students to inquire, explore and become all that they can, and to instill a desire for learning the sciences, especially robotics.