Middle School Robotics Competition
Middle School Robotics Competition : FLL / FIRST
Where LEGOs Rule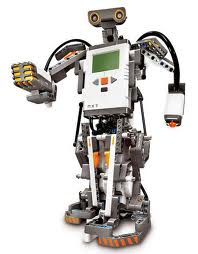 Middle School Robotics Competition. Nearly 100 children participated in the recent FIRST LEGO League (FLL) middle school robotics competition at the Pee Dee / Southeastern Institute of Manufacturing and Technology held on Dec. 17, 2011.
Middle school kids from all over the Coastal Zone region of South Carolina — North Charleston, Myrtle Beach, Florence, and Darlington — vied the top spots that will qualify them for the regional tournament whose winners will be vying for the state championship at Irmo High School in February.
Watch the Videos HERE -- Original News Item
The FLL competition was called the Food Factor Challenge, because in addition to showcasing their robot design and programming skills, the teams also had to make presentations highlighting the importance of food safety measures. The Delmae Daredevils of Delmae Elementary School prevailed to be the champions of the Food Factor Challenge.
The competing teams all built their robots using LEGO Mindstorm kits. Each of these kits includes a microcomputer "brick" that serves as a programmable robotic controller, plus a set of servo motors, a variety of sensors (sound, light, touch, and ultrasonic), and mechanical parts adapted from the LEGO Technics line of products. The microcomputer is programmed using an icon-based drag-and-drop interface to make it easy for young children to teach their robots what they are supposed to do.
Alongside the invasion of the LEGO robots, there was a special appearance by a bomb disposal robot called the Remotech F6A. It was brought in by the Floyd County Bomb Squad for an educational demonstration. According to Floyd County Police Captain Greg Dobbins, the Remotech F6A robot has uses in a variety of situations. Besides handling and removing explosive devices, the robot can assist the county's SWAT team in dealing with barricaded suspects.
The FLL is organized by For Inspiration and Recognition of Science and Technology (FIRST), an organization that is aimed at inspiring students to enter the engineering and technology fields.
The FLL Challenge consists of three parts — the robot game, the project, and the core values. In the robot game, teams must build and program an autonomous robot that can complete a series of tasks within 2.5 minutes.
In the project, the team is given an engineering problem to solve, and makes a presentation of its findings.
The core values challenge refers to the team's ability to demonstrate cooperation and teamwork. The teams also have to keep in mind the theme of the challenge.
The recent middle school robotics competition, centering on food safety, required the students to come up with original solutions and presentations about dealing with food contamination and keeping a safe food supply.