Android Phone Robot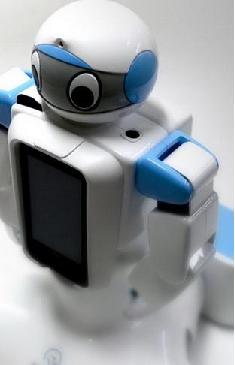 The Dongbu Android Phone Robot
The Dongbu Android Phone Robot. Dongbu Robot of Korea is launching a line of robot kits that will enable you to control an actual android--that is a robot--with a phone . The company, which used to be known as Dasa Robot, is the maker of the Aibo-like Genibo, a highly functional robotic dog.
Genibo (meaning "Genius Robot") is a cute, semi-autonomous pet robot with a camera in its nose that can take photos which it can send to your cellphone. Dongbu Robot's new HOVIS humanoid robots can use Android smart phones as their android brains.
"An Android Phone Robot?"

The HOVIS bots will be available in several varieties, including a distinctly toy-like wheeled model that is priced at around $620. Embed an Android phone into the chest cavity of the wheeled HOVIS model, and you will have a robot you can control and communicate with in various ways, including WiFi, Bluetooth, and speech commands.
Dongbu Robot has a deal with the South Korean company SK Telecom to provide Android users with HOVIS-related apps that are downloadable via Bluetooth and WiFi. The speech recognition app is expected to be among the first to become available.
Other apps that will be offered include home security, entertainment, and educational software. Children will be able to use the touchscreen phone embedded in the chest of the HOVIS bot to interact with the educational apps.
In the past, robotics engineers have combined smart phones with customized mechanisms to create functional robots, but HOVIS kits will allow the man on the street to accomplish the same thing "out of the box," so to speak.

The US-based Romotive also offers kits that allows non-engineers to build a robot out of a smart phone, but those are likely to remain limited in availability for some time to come. The HOVIS robot builder kits are expected to be commercially available on a mass scale—though only in South Korea at first, although global distribution is said to be on the way.
The HOVIS kits are designed to appeal to different markets. Novice hobbyists will probably go for the previously described wheeled HOVIS model, which doesn't require one to do much more than fit a smart phone into the robot's chest socket. Two-legged HOVIS models will also be available. One of the two-legged models looks very much like a toy robot, but another type is in the form of a complex exoskeleton with multiple points of articulation.
Dongbu Robot will also make DIY kits and advanced Android phone robot software available for use by experienced robot builders and programmers.