World's First
3D Printed Building:
Scheduled to Arrive in 2014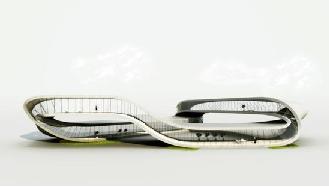 3D Printed Building Construction
Have you ever seen a 3D printed building? Neither have I. very few people have.
3D printing has indeed gone a long way. What was once a dream that none of us has ever imagined is now beginning starting to startle us all. 3D printing is slowly but steadily conquering the way we see print technology. It's conquering the way we create things. It's conquering the way we build things. It's CHANGING THE WORLD!
We've heard cellphones printed by this state of the art equipment, then came a huge dinosaur bone and followed by a human fetus. But there's an even bigger surprise in store for us and it's even larger than life!
Coming soon is a fullsize, massive PRINTED building!

---
3D Printed Building: the Architect
Architect Janjaap Ruijssenaars has been working on this project for quite some time now. The Dutch-born genius has been doing his best to bring his dream "Landscape House" into reality. Ruijssenaars' plans involves a two-story structure in the shape of number 8. The architect's idea can seamlessly fit in with nature as well as into the outside world.
According to Ruijssenaars Web site, the building is a "one surface" structure "folded in an endless mobius band." One great feature includes the floor, which "transform into ceilings, inside into outside."

The D-Shape printer will be used to print the building. Enrico Dini was the brain behind this technology. The D-Shape operates via the process of stereolithography, together with sand and a binding agent, to help the designers "build" structures that will stand as sturdy and hardy, as real-life concrete.
The Los Angeles Times reports the 3D printer will produce thousands of layers of sand in order to come up with 20x30-foot sections. The blocks will be the main materials to be used to compile the building.
Never has there been before a 3D "Landscape House". If this project gets accomplished, it will be the first ever of its kind. It is expected that this project will cost between $5-$6 million, reports BBC.
And if this is built, it is likely to usher in a new way to build, a unique way to build, a totally fun and exciting way to build. It will usher in the age of the printed buildings!

Ruijssenaars expects his 3D printed building will come to completion by 2014.
Read more on this development on TechCrunch, here.
---
---
Robot-Android-Blog  Read our blog about robots, building robots, and easy robot building.
How to Build a Robot How to Build a Robot takes you through each step required to build a robot.
Build an Arduino Robot Yes you CAN! We get you started.

Robot Comics Robot Comics are HERE! We start off our comics with...
Virtual Steve Jobs Virtual Steve Jobs? Steve Jobs is gone and we missed him so much we re-created his essence in software...
The EZ Robot Review The EZ Robot Review. This article reviews the EZ Robot building system, the robot board and system for beginner's robot building.
Medical Robots Medical robots are now showing their silver faces in hospitals and doctors' offices across the world.
Roomba Repair Quick and Simple Fixes for Your iRobot Roomba vacuum
Roomba Batteries How to extend the life of your Roomba's battery. Buy replacement batteries here.
Robot Cars - Yesterday's Vision, Today's Reality Are robot cars 'on track' to becoming the way of the future? What issues are at stake at their current level of development?
Robot Car Safety - The Future of Today's Vehicles
Robot Car Safety can be identified by two main technological components - lacking in human drivers -a (1) instant reaction time and (2) 360-degree awareness of the road.
Educational Robots Learn robotics with these educational robots..
Robot People Robotic replicas of people - robot people - are starting to pop up here and there. We even visit a company who is today making them to order.
Hacking Elvis - The Alive Elvis Animatronic Robot In these articles we show you how to run your Alive Elvis from a microcontroller such as the Arduino and the Basic Stamp. Hacking Elvis...
Wall-e toy robots from Disney Wall-e toy robots are still popular this year

R2D2 Toy Robot : Interactive-Astromech Droid Here's a review of the high-end R2D2 toy robot, the interactive astromech droid.
Toy Robot Dogs Toy Robot dogs: In the robot pet store, you will find toy robot dogs - robomuts if you will - of all sizes, shapes and prices.
Wowwee Robotics Wowwee Robotics has been building toy robots for years.

Lost in Space Toys : The Robot Lost in Space Toys : There have been scores of toys built resembling the Lost in Space Robot, sometimes call by his model number "B9"...
Tribot Robot The tribot robot is one of the most entertaining toy robots that has come from Wowwee...
Terminator Robots Terminator Robots : The Terminator movies and television show brought robots to...
Artificial Intelligence: Our Brain In That Small Chip Artificial Intelligence was once thought of as an impossible feat. Now, with modern advancements in robotic technology, machines can be made to think like humans.
R2D2 - An Adventurous, Resourceful, and Loyal Robot R2D2 demonstrates several notable characteristics every human can learn from, in spite of the fact that he is, a robot. Read his biography here.
Anybots Vistual Assistant Robots - The Coming of Age in Telepresence Robotics Anybots Virtual Assistant Robots are expected to grow in a few years, or perhaps sooner.
BlueBiped: Propelled by it's Own Weight BlueBiped uses no power source to walk. This robot has set a Guinness World Record, walking nonstop for a distance of 15 km (9.32 miles), the longest distance ever walked by a bipedal robot
EZ-Robot May Be the Easiest Way to Build a Robot EZ-Robot May Be the Easiest Way to Build a Robot. The EZ-Robot is a $235 kit that includes everything you need to transform one of your old toys into a functional robot.
Introducing MorpHex, a Spherical Hexapod Robot Introducing MorpHex, a Spherical Hexapod Robot. Imagine a robot shaped like a ball which transforms into a walking six-legged contraption. That's a description of MorpHex, created by Kare Halvorsen.
Recovering Kids Monitored by Robots After Surgery Recovering Kids Monitored by Robots After Surgery. A Boston, Mass. hospital introduces a sci-fi worthy caregiver system, where patients can go home and stay monitored by robots after surgery.
iCub the "Baby Robot" - Learns to Crawl Like a Baby Have you heard of the iCub? It is a one-meter high android originally developed by the Europe-based RobotCub Consortium. The iCub strongly resembles
Dongbu Robot HOVIS Kits Allow Users to Build An Android Phone Powered Robot Dongbu Robot HOVIS Kits Allow Users to Build An Android Phone Powered Robot